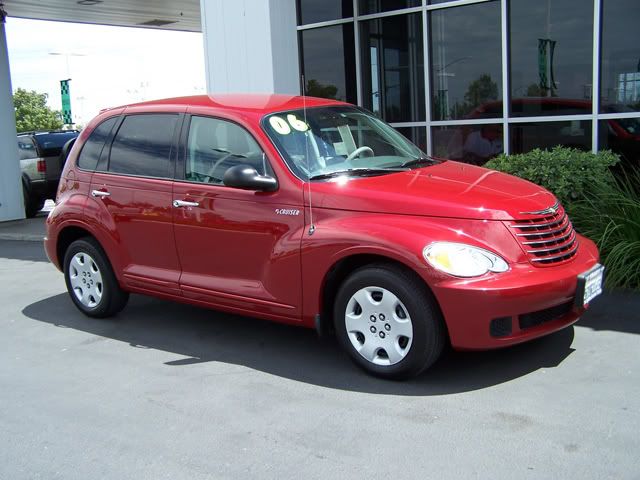 Can't see the Picture? Want to see more pictures? Visit Our Website: <a href="http://www.tracychevrolet.com/en_US/">
www.tracychevrolet.com
2006 Chrysler PT Cruiser Touring Sport Wagon 4D
VIN 3A4FY58B86T225651
Mileage 32,348
Stock #P17227
Exterior: Red
Interior: Dark Slate Cloth
4-Cyl. 2.4L
Automatic
FWD
This Chrysler PT Cruiser is Stylish and Super Clean Inside and Out!! This Red
Hot Car features the Touring Package! Other features include Icy A/C,
Power Steering, Windows and Locks, Cruise Control, Rear Spoiler, CD Player,
AM/FM Stereo, Dual Front Air Bags and So Much More!! Don't Miss
this One!! Tracy Chevrolet Delivers the Real Deal, Fair Pricing for You and
Your Family! Call Us Today and ask for Kris(Rabbit) or Rich Smith Your
V.I.P. Contacts in Our Internet Sales Department! Call Now!
Call Us Today at (888) 812-5331 And ask for Rich or Kris.
$14,999 plus tax and fees.
Financing available for qualified buyers. Extended warranties available.
See more pictures on our website: <a href="http://www.tracychevrolet.com/en_US/">
www.tracychevrolet.com
Extended warranties available.
Contact us immediately:
Tracy Chevrolet
3400 AutoPlaza Way
Tracy, CA 95304
888 812-5331
VEHICLE IS LISTED FOR SALE IN OTHER MARKETS SO SALE IS SUBJECT TO DISCONTINUATION AT ANY TIME
PTCruiserLinks:
The above item is true at the time of posting from craigslist. We assume no liability for errors or omissions. Please use the contact method stated in the above description to contact the owner.