17 Oct 2008, 02:21 am
Dedicated Cruiser

Join Date: Jul 2008

Location: Hemet CA

Posts: 2,316
PT Automotive Detailing Guide Quick Reference
---
Hello Everyone,
I saw another Member here that put together a very nice quick reference guide for a large amount of information, and thought it was a great way to streamline my Automotive Detailing Guide into one convenient post. So, here is our new quick reference guide in its entirety for everyone to enjoy!
DETAILING YOUR EXTERIOR:
Guide to Detailing Part 1: Introduction
Detailing How to Guide Washing your PT
Detailing How to Guide: Vehicle Evaluation
Guide to Detailing Your PT: Claying Your Paint
Guide to Detailing: Buffing You Paint
Detailing Your Paint: Polishing
Detailing Your Paint: Glazing
Detailing Your Paint: Waxing
Detailing Your PT: Convertible Top Cleaning
Detailing Your Paint: Finishing Details
DETAILING YOUR INTERIOR:
Detailing Your Interior: Carpeting
Detailing Your Interior: Plastic, and Vinyl Trim
Detailing Your Interior: Leather Seats
Detailing Your Interior: Finishing up
As many of you know, in most of my posts, I try to reference the use of Meguiar's Car Care Products. The reason I do this is Meguiar's makes a good very complete line of Detailing Chemicals, towels, and Detailing Tools that are of good quality, readily available at most large retail stores, and automotive parts stores alike, are very cost effective, and are relatively easy to use. The Link below is a listing of the Meguiar's Products I recommend for a full detail of your PT, as well as direct Links to the exact online location of each item for purchase.
Guide to Detailing your PT: Product Listing, and Quick Links:
Thank you for reading my Guide. From time to time, I try to update, and continue to add more information in order to make this the most complete guide I can, so please check back once in a while, and you may find new information on specific subjects listed. Take care, and best wishes on all of your Detailing Projects!
Sincerely,
Candyman
__________________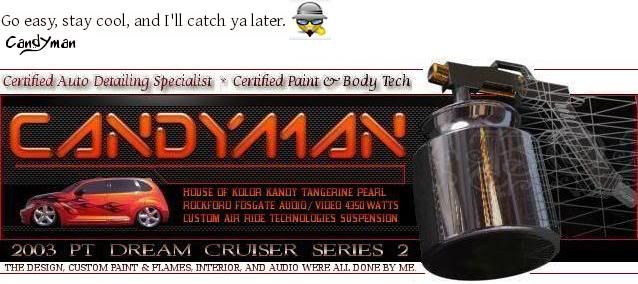 Check out my Custom PT Club Website:
http://westvalleyforum.proboards.com/index.cgi
And my ever growing PT Photo Archives:
http://s458.photobucket.com/albums/q...uiserArchives/
Please Like my Hot Rod Restoration and Detail Shop on Facebook.
https://www.facebook.com/BlueDiamondDetailing
---
Last edited by Candyman; 17 Oct 2008 at

05:38 am

.