27 Jul 2011, 05:04 pm
Obsessed Cruiser

Join Date: Sep 2001

Posts: 27,757
Re: Any one have instructions to install Mopar hood cover?
---
It helps to have a picture, so here's mine.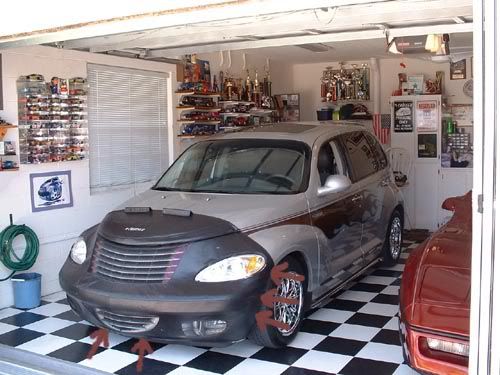 The hood cover just fits over the tip of the hood and two straps go down the inside of the hood to any two holes you can find then the straps can be tightened.
Your new bra should have comes with about 8 snaps that take the place of 8 screw (brown arrows in the picture). Three on the edge of each wheel well and two at the bottom of the front facia. They will be the male ends and if you look at the bra you'll see the 8 female part of the snaps on the outer edges (3 on each) and two at the bottom.
After the male ends are put on the car, you'll be able to see where the bra female ends hook up to them. The top center of the bra has built in hooks and plastic pieces that fit over the top to hold it on. there's also 3 or 4 flaps on each side at the lights that push into the outer edges of the lights to hold the bra tight.
Sorry, that's the best I can do for you.
__________________
Rules of the forum have been updated as of *07/07/2019* Please read them over.

- All decisions by the Moderator are semi-permanent, can and may be changed at his discretion but definitely will be the final word. Any action performed by the Administrator or Moderators are not to be discussed on the forum.