Hey Everyone,
Since the topic of how to post photo's seems to come up once in a while, I figured I might try to do a quick write up on the subject to help out anyone who might need some help on the subject.
TO start with, you will need to find an Image Website to host your Photo's at. One of the most popular is a Website called Photobucket. It is a totally free service, and you can upload literally thousands of Photo's. For this demonstration, this is the image host we will be using. Please note that in the Photo's below, my screen is set to black. Their are many different colors, and patterns you can use to customize your Photobucket so do not let the different color confuse you. The basic functions are still the same.
To set up an account, please click on the Link below, join up, and fill out all the necessary information to set up your free Photobucket Account. Once you have set up account, then you are ready to start uploading Photo's. To do this, just click on the Blue Button that says "Choose Files", and a separate Window containing your Photo's will come up. Next just click on all the Photo's you wish to upload and then click "open".
Once your Photo's are uploaded, click on the Photo you wish to post on the Forum once. In the lower left side of the screen you will see a small box that will say "Share this Image". In the box will be four lines of Code, all of which allow you to post your Image in different ways. In this case, we want the IMG Code which is the last one in line.
To get the IMG Code, simply roll your mouse over the code and click on it, and it should turn Light Blue, and say "Copied" on the left hand side of the Code. If this method does not work automatically happen, then again, roll your mouse over the code, and click the Mouse once again only this time click the right button after clicking the left button on your Mouse instead, and a small white window will appear that says Cut, Copy, Paste, and a few others. In this case, you will want to click on "Copy".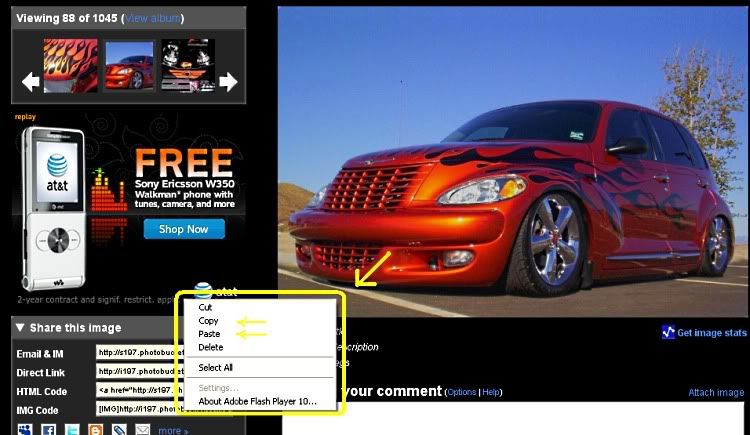 Next, come back here to the Forum and open up a new Topic, or Post and type whatever you would like to say, and wherever you would like to post any Photo, simply right click your Mouse again, and select "Paste", and the IMG Code will then appear over here. Finally when you click on Submit, your Photo will appear.
And that is about it. Nothing real hard.
A couple of quick notes and you are good to go.
1. You can use Photobucket to do some new cool Editing of your Photo by clicking the word "Edit" which is listed above each of your Photo's. Their, you can change your Photos using a ton of cool features which are all listed in the tabs at the top of the Screen. You can do anything from change the size of the Photo, to putting some basic animations, and much more. It just takes a bit of playing, and you will get the hang of it it in no time. If you are editing, and want to return to your Photo's at any time, just look for your name in Blue right under the Photobucket sign at the top left side of your screen.
2. If you post a Photo on this Forum, and decide to delete it in your Photobucket, then it will turn into a giant red X which can be kind of annoying. So, to avoid this, since you have the ability to upload thousands of Photo's, its a good thing to leave them up on your Photobucket as long as possible without deleting them, so that everyone can see, an enjoy your Photo's for years to come.
3. In your main Photobucket Gallery, at the top of the page are several
Tabs. Click on those, and they have lots of cool stuff to make your Photo like make small videos with music, and moving backgrounds, and more.
Anyways, now you should be all set to make, and share some cool pic's with all of us.
Have some fun, go easy, and I will catch ya later!
Candyman