01 Mar 2008, 10:12 pm
Regular Cruiser

Join Date: Feb 2008

Location: Chicago IL.

Posts: 162
Illinois PT's
---
I'm new to PT's but have wanted one for years, now I finaly have a PT GT...
I also only just moved to The US and I'm an hour west of Chicago, does anyone else on the forum live in the area?
I'd love to catch up with other PT fans.
Anyone know of any car meet ups in the area?
__________________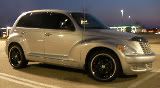 To be old and wise, you must first be young and stupid.