25 Nov 2013, 11:16 am
Obsessed Cruiser

Join Date: Jan 2012

Location: Beckley, W.V.

Posts: 13,902
Re: Winterizing the PT? The Cold Has Arrived!
---
Quote:
Originally Posted by
Handy_Cruiser
Well, here in the great sovereign state of Arkansas the thermometer dipped down below 30 degrees yesterday. And of course that means folks started sliding off the road, fighting over the last can of soup at the grocery store and stockpiling ammunition.
For me, there's plenty of Campbell's already in the cabinet right in front of the ammo boxes. So I figured I was good to go. But when I turned the ignition on my little red PT, she cranked kind'a slow before starting. The battery looks sort of old but hasn't giving any trouble this far. However, I figure this slow cranking is a kindly sign from the Lord that I should probably get a new battery now before I'm left stranding somewhere less hospitable than my driveway.
Anyway, what else should we all be doing to get our PT Cruisers ready for winter and those frightful days where things might even start to freeze hard outdoors?
Quote:
Originally Posted by
Chromenut
I've got the same problems, but one step worse - it's going to rain/sleet/snow tomorrow, it's already 22º outside, and when this starts tomorrow, since I have a convertible, I'm sure the windows will be stuck again to the top and I'll just have to wait it out. Not that it bothers me, as I usually won't drive in weather like this, but I really hate having to get into my car with frozen windows.

For others out there with verts - one way I found to get the windows "un-stuck" is I bought plastic scraping tools from Dollar Tree and there are three sizes in the package. You can simply slip one between the window and the door panel rubber and carefully slide it back and forth - breaks the ice free and frees up the window.

Oh, of course in my state, NC, normally those who are born here you'll see them stuck to the window of their PT as they tend to lick the glass thinking they can free it up and their tongue will freeze to it, similar to Dumb & Dumber....
Best thing is to avoid the sticking al together. Spray or wipe the weatherstrip with tire shine armorall or silicone spray. Wipe excess off with a cloth. Windows should not stick unless you get freezing rain. Door wetherstrips do nthe same way.
__________________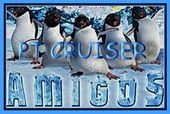 03 Dream
stock___________________________
04 Touring turbo lite
stock_________
02 Touring
stock_____________________
The "Three Amigos"
__________________________________________________ __________________________________________________ ___________
Performance, Body and Service, OEM
This Is my project page.
http://www.ptcruiserlinks.com/forum/...oject-1-a.html
This is a great read from one of our own! Badglas
badglas.blogspot.com