27 Mar 2010, 04:44 pm
Obsessed Cruiser

Join Date: Sep 2001

Location: West Central Florida

Posts: 27,734
Re: speedo not working tranny not shifting
---
Found this conversation on a search:

The reverse works and it works fine in first gear but want shift to 2nd or higher. Also the speedometer needle doesn't move when I'm driving, it is on zero.

I tested both input and output speed sensors and they appear to work fine.
I'm wondering if anyone has seen this before or could give me an idea where to check next. The next place I would think to look is the TCM (Transmission Control Module) nut not sure how to test it.
Could I get one from a wrecker and try it out?
Any ideas?

The speedometer problem sounds like the VSS, which is located on the back of the transaxle. However, if the TCM is fried, that may prevent the speedometer from functioning.

Check Fluid? You probably have but I understand these trannies are real sensitive to fluid level.Also, after checking and adjusting fluid, I think you can reset the tranny computer by disconnecting the battery for a short time. It will "re-Train " itself.

Ok this is what I did. I bought the input and output sensors and tested them to see how the new ones worked. I connected my AC voltmeter on low scale to the electrodes on the new sensor and passed a magnet in front of the sensor. I could see a small amount of ac on my meter. So I then took out the two sensors from the transmission and tested them the same way and they appeared to have the same readings as the new ones. I then figured they where good.

I then called a person who works on dodge vehicles all day long and he said that 9 out of 10 times the problem is a bad sensor. If the output sensor is bad, the speedo does not work and you can't get out of first gear. If the speedo works and you have transmission problems then it is most likely the input sensor.

So I went ahead and changed out the output sensor and she works great. The speedo works and I have all my gears working.

This mechanic also said I should replace the fuel filter since I have 118,000 Km on it because they can cause problems if they are starting to get plugged.

Thanks to everyone that replied to my post.
__________________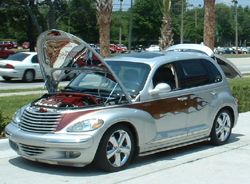 ...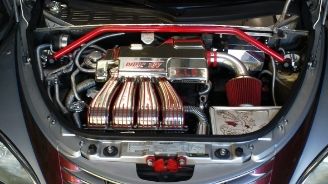 ...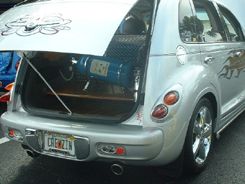 ..

...just CREWZIN along! ® . . . PT Cruiser Links Moderator
2000 PT. Original Owner, 123,000 miles
MY technical suggestions are given in GOOD FAITH without total guarantee, if in doubt go to a garage.
Cruiser Of The Month (COTM) May, 2015.
Visit My Home Page
www.CREWZIN.com
I find it ironic that the colors red, white, and blue stand for freedom until they are flashing behind you.