Brian, welcome to the forum.
There's a fuse box in the engine compartment. The ASD is No#13.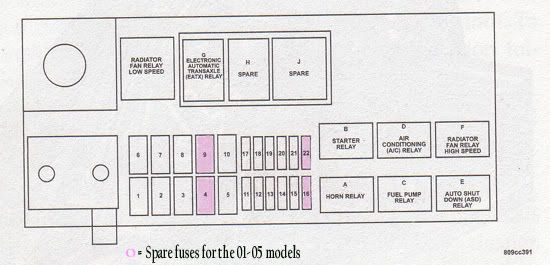 As a mechanic you should have the knowledge to be able to test the coil circuit. What I can tell you is that with all the problems that come here with the multiple misfire, the coil was the last thing to go wrong. It's good piece and even those that went to an after market "power" coil have found that there were problems with those and came back to the OEM. Not saying it can't go bad, but it's probably something else.
Start with the plugs and wires. If the wires are OEM, get rid of them. There cheap and don't last long. Lots of owners do a tune-up and only change the plugs and not wires and still have problems. You'll have to pull the upper manifold but it's not hard. Here's a link that shows how. Just ignore the part with the EGR tube as Chrysler did away with that in late 2002.
Spark Plug Guide
Also, a big problem many owners have found is a vacuum leak either on the seams around the upper manifold or the mating around (4 small gaskets) the upper and lower manifold right there in the front as you open the hood. If you spray WD40 or other spray around those areas while it's running, they'll be a noticeable sign of a vacuum leak, if there is any.
Good luck.