12 Aug 2011, 01:30 pm
Obsessed Cruiser

Join Date: Sep 2001

Posts: 27,747
Re: Radiator Fan Problems (again)
---
Yes, you can hook up a ground and positive wire to the electrical connection that unplugs from the harness. The middle pin is ground and the two outter pins should make the low and high speed fan come on.
How do you know the relays are good? But to tell the truth, I can't remember anyones relays being the problems when the fan doesn't come on.
The ECT (Temperature Senser/valve) is located under the thermostat housing. Like the picture below only in the 2006 and newer cruiser, for some unknown reason, they seem to be put in facing the opposite from this picture which makes it harder to get to. It can have an affect on when the fan comes on, but the biggest thing that may have a problem is the computer.
When everything is cold, turn on the engine and the A/C. The low speed fan should come on when the A/C is engaged. If not, the computer might be at fault. A true test would be to hook up the car to a DRB scanner that can go through all the functions and tell if the computer is working.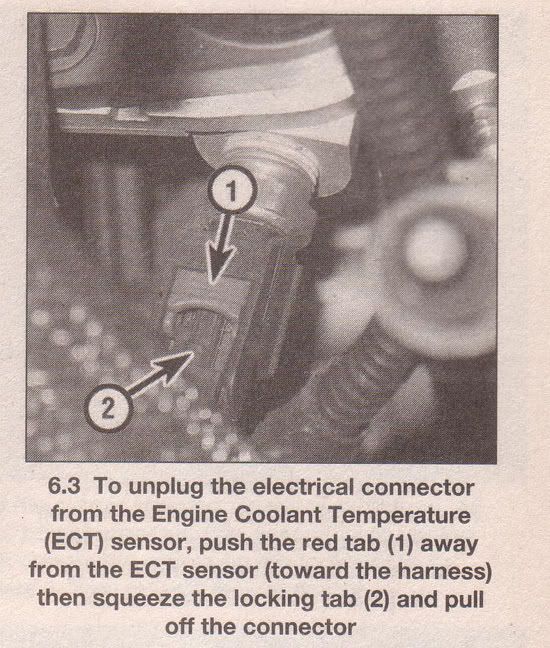 __________________
Rules of the forum have been updated as of *07/07/2019* Please read them over.

- All decisions by the Moderator are semi-permanent, can and may be changed at his discretion but definitely will be the final word. Any action performed by the Administrator or Moderators are not to be discussed on the forum.