10 Aug 2013, 07:23 pm
Obsessed Cruiser

Join Date: Sep 2001

Posts: 27,747
Re: Error codes PO633, 551
---
Stu,
First, to get rid of the engine light, take off the negative battery cable for about 5 minutes. While off step on the brake pedal to get rid of residual charge. Then put it all back together. This will reset the computer and clear the codes.
The power steering switch monitors the pressure in your steering system. It does go bad and sometimes start to leak. It could also indicate a problem with the steering pump. Easiest thing to do is replace the switch and see if that is the cause of the fault code. (pic of switch below).
The other code could be a one-off and clearing the codes as described above might be the last you see of it. On the other hand, if you having any problems with the chipped key or fob, opening, locking or starting the car, you could have a skim problem.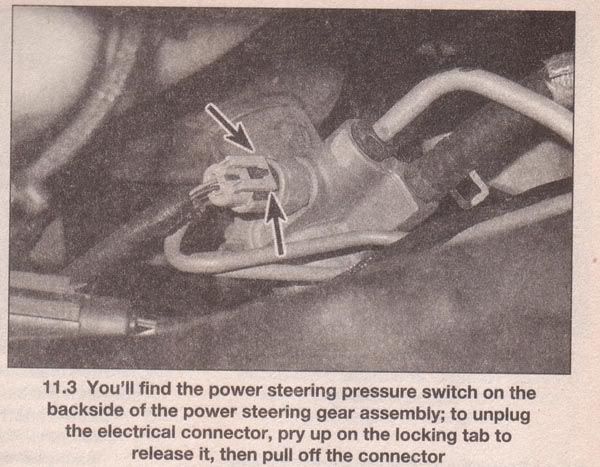 __________________
Rules of the forum have been updated as of *07/07/2019* Please read them over.

- All decisions by the Moderator are semi-permanent, can and may be changed at his discretion but definitely will be the final word. Any action performed by the Administrator or Moderators are not to be discussed on the forum.