30 Oct 2015, 09:30 am
Obsessed Cruiser

Join Date: Jan 2012

Location: Beckley, W.V.

Posts: 13,903
Re: 05 Convertible 2.4 Turbo / Do I really have to?
---
Quote:
Originally Posted by
agr1233
I live in the arm-pit of the universe...Northern Maine. My vehicle has always gotten admiring glances and appreciative comments. Little do they realize I'm behind the wheel crying as I try to maneuver into, out of, or around anything. You see guys and gals I have no power steering. None, Nada, Nothing.

My tech question is: from what I have seen in YouTube demo's and have read...it appears that in order to fix a power-steering problem one must first remove everything under the hood up to and including front seat, steering wheel and the cup holder before one even begins an attempt at a 'fix'.

Is all that really necessary to replace the reservoir? That's where my leak began and stayed. I'm far from being a qualified mechanic but I have tried to learn how to fix things myself. I have learned the importance of band-aids and duct-tape. My friend at the used parts counter did not see a reason for all of the removal, crying fits, cuts and walking in sub-zero weather. [Not yet but give us a month]

Can anyone enlighten me?

Thanks,
Albert
Albert that info is as crazy as Bernie Sanders. Nothing inside needs touched. You say you have a leak. If you fill the system up will it work? Ok say it does, you will need to remove some things. I will send you to a guy who has actually been into the pump and its removal. He can tell you exactly what he did. 767skyking, he is knowledgeable and super nice guy. PM him and you two can get you at least knowledgeable about what you need to do. I would take pics with your phone before you take something off each step of the way. You then have a pictorial map where things go and their fasteners. Nice comfort tool when doing something you haven't done before.
thes info you posted is an example of to many sources. You need to use a good source and ignore the rest to avoid confusion and bad info such as you have experienced already. I have sent to a guy that has wired in his turbo power steering pump. So dame setup as yours. Do post up the results or progress as you have time. Good for the next person like you.
__________________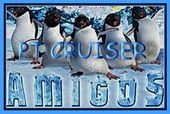 03 Dream
stock___________________________
04 Touring turbo lite
stock_________
02 Touring
stock_____________________
The "Three Amigos"
__________________________________________________ __________________________________________________ ___________
Performance, Body and Service, OEM
This Is my project page.
http://www.ptcruiserlinks.com/forum/...oject-1-a.html
This is a great read from one of our own! Badglas
badglas.blogspot.com
---
Last edited by Busted_PT; 30 Oct 2015 at

09:36 am

.