So I got a bright idea that it would be nice to be able to see all the pt cruiser members on one giant map! This way gone are the days of searching through the forums to hunt down folks near by. The map is simple to use and is editable by all (cause we can trust you not to delete everyone!)
So no matter if youre a old or new PTCL Member, feel free to add your own mark on the map. Be sure to use your PTCL Username so that if someone sees you're close by they can find you on here and send you a PM.
(NOTE: For those sensitive to putting any information on the map, the map is only viewable from the URL below, and only put the town you live in vs a whole address. If still unsure just put a larger town near where you live.)
Heres a picture of how to add a marker.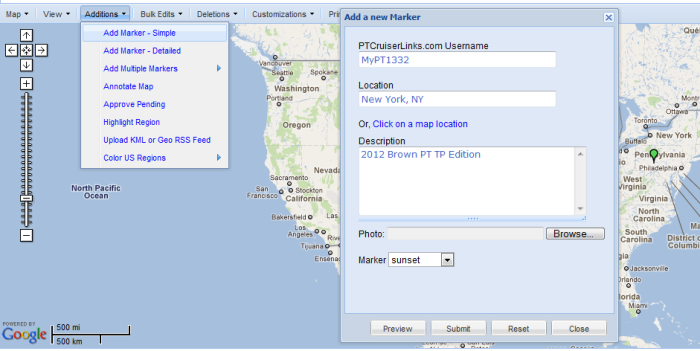 Now that you're all ready, Head over to
PT Cruisers
and make your mark on the map!