WELCOME and Forum Rules
---
WELCOME to the Forum.

Rules of the forum have been updated as of 5/1/2014. Please read them over.


We've had many new members here so I would like to take a minute to remind people of some of the guidelines, both written and unwritten.

- Try the Search feature. It's not perfect, but so many topics have been discussed repeatedly that chances are you'll find some great info in old posts.


- Try the FAQ page for common questions like 'Posting a Picture', signatures, etc.


- Try naming your Topics something relevant to what you are discussing. For example, don't name the title "look what i found" when you'd like to discuss the new hood you found. Instead, try a title like "New hood". This way, other Members can search and read topics relevant to their needs.


- Keep to the subject. Members start topics for a reason, i.e. to get relevant responses. If you wish start a new topic, simply start a new Topic.


- Keep your image sizes to a respectful size. Most of our users are on slow telephone modems, which can take forever to download images. Please respect these Members, and don't post huge images.

- A good size for a signature image is 300 width by 175 height, 20k maximum. Please keep signatures to small images. PT Cruisers look good at any size, trust us. Most of our users are on slow telephone modems, which can take forever to download images.

- Signatures and postings: Keep them clean and on subject. No political messages, pictures or references to political preferences, personal/religions beliefs, advertisements or male/female images having nothing to do with the forum topic.

- We have a Non-PT Forum for Non-PT discussions. Tangents and Off Topic discussions should be posted here, including topics about other cars, world news, jokes, etc.

- If you are planning a meet, want to meet people in your area, or want to find out what's going on where you live we have Regional Forums for these type of discussions.


- Have something to sell? Want to buy something? Trade something? Post it in our Classifieds Forum this forum is for Individuals only. Commercial posts are not allowed here. If you are interested in advertising your products in the Forums please use the Vendors & Buyers Forum. It's free, as long as you don't abuse it.

-SPAM Please do not click on any link that you believe is SPAM, they have codes in the URL that can tell them where you found the site, that means more spam. Please respect pt cruiser links and do not contribute to spammers. If it's not a PT related item sold by a individual that is active in the forum, or if they direct you to another link in the post, don't give them the time of day, because you are contributing to the problem.

- Respect each other and the community. We have a great thing going here, discussions may become animated and people disagree and that's cool. But members should never attack or demean other members. If you feel a need to get nasty, do it elsewhere. We have zero patience for flamers and will be dealing with them swiftly and severely, and we will not accept excuses. We have no tolerance for disrespectful individuals.

- Posts will be edited or deleted to keep the peace on the forum at the moderators discretion.

- We have a ton of great people here who are standing by ready to help. The moderators are willing to help at any time as well. Please, just keep in mind the differences between what fits in the Forums and what can be handled privately.

- Language: Please keep all language PG .. I want this to be a clean place, we have many members who do not wish to see such language.

- Spelling or insignificant grammar errors by a member is NOT a good reason to create a post pointing that out.

- Posts WILL be deleted or amended by the moderator at his/her discretion if any rule or part of a rule is broken.



Thanks again everyone for making this place what it is. If you have any questions or comments, please use the Email feature to email me. Thank you. Happy Cruisin!


Because of the amount of SPAM associated with the forum a new Anti-Spam protection was implemented.

- For new member with 6 posts and less, if their posts contains more than 2 links, the post will goes into moderation queue. Disadvantage for this, image posted is consider links, however, this only affect new member.

We encourage all new members to say hello and introduce yourself to the rest of the community by starting a post in the Welcome New PT Owners thread at the top half of the forum.

- For the men. We all like to look at a beautiful woman but on the forum, keep the clothes on. No nude or simi-nude photos. No provocative or sexual content!

Last but not least:

- All decisions by the moderator are simi-permanent, can and may be changed at his discretion but definitely will be the final word.
__________________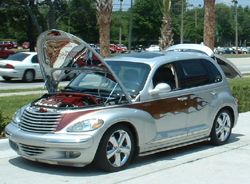 ...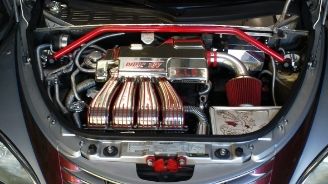 ...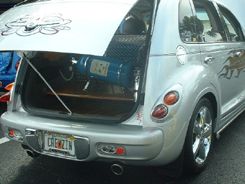 ..

...just CREWZIN along! ® . . . PT Cruiser Links Moderator
2000 PT. Original Owner, 123,000 miles
MY technical suggestions are given in GOOD FAITH without total guarantee, if in doubt go to a garage.
Cruiser Of The Month (COTM) May, 2015.
Visit My Home Page
www.CREWZIN.com
I find it ironic that the colors red, white, and blue stand for freedom until they are flashing behind you.
---
Last edited by CREWZIN; 30 Oct 2016 at

02:47 pm

. Reason: always updating the rules ...keep yourself aware of them.