13 Nov 2010, 11:50 pm
Dedicated Cruiser

Join Date: Jul 2008

Location: Hemet CA

Posts: 2,316
Re: Anyone seen similar wheels for a PT? (Challenger 22)
---
Hey their tigerjeepguy,

As far as wheels go, you can go anywhere from 15" up to 19" wheels without stepping outside of Factory OEM Specs. The only thing that offsets the increase in size is by opting to go with a thinner tire to compensate, and of course anytime you go thinner on a tire sidewall, you will slightly lose some amount of ride quality. Basically the thinner you go, the less ride quality as far as tires go, so maybe something to consider.

You can go up from their to 20" wheels and be fine at stock height, but it will have a slight effect on your speedometer calibration, as well as you will get a rougher ride from the increasingly skinnier tires, and you also will run the risk should you hit a pot hole just right you could potentially bend a wheel in the process. This is why 20" wheels are used more so for show vehicles, or part time drivers rather than full time daily drivers.

And last but not least, if you do not find the wheels you are looking for, you can opt to see if you can find the wheels you want within the PT's required Specs, and see if you can order them as Blanks which are undrilled, and have them drilled at the Tire Shop. This way you can get around things if the biggest obstacle is not having the correct bolt pattern available to fit the PT's 5-100 Specs.Just be sure the wheels are otherwise within a 35 - 40 Offset preferably, and within a 7.5" - no wider than an 8" wheel maximum to fit properly.

Ideal wheel size to help close up a little wheel gap I would recommend should be somewhere around 17" - 18" should fit well and still be drivable without much problem. Or you could accomplish the same thing on a much cheaper budget with the same end result by purchasing a mild set of Drop Springs as a viable alternative. Basically the cost difference would be roughly $800.00 - $1200.00 plus for wheels, of $150.00 - $250.00 for a set of drop springs plus install. Big difference in cost and roughly the same 2" of gap closed either way.

That's my 2 cents for what its worth. I wish you good luck on whatever you decide, and if you have any more questions, please feel free to ask me and I am always more than happy to try to help wherever I can.
__________________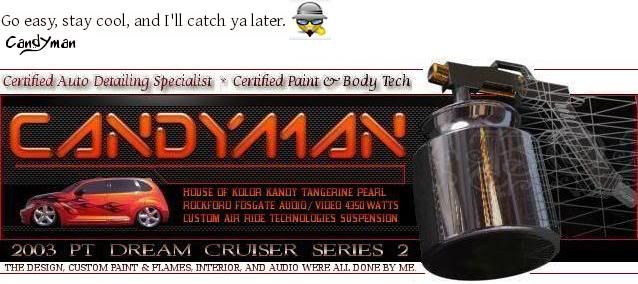 Check out my Custom PT Club Website:
http://westvalleyforum.proboards.com/index.cgi
And my ever growing PT Photo Archives:
http://s458.photobucket.com/albums/q...uiserArchives/
Please Like my Hot Rod Restoration and Detail Shop on Facebook.
https://www.facebook.com/BlueDiamondDetailing