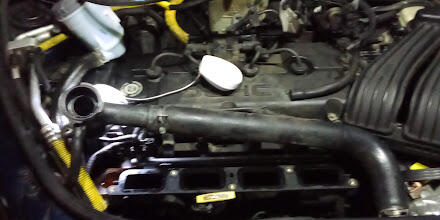 LOOOOOOOOONNNNGGGGG DAY.
But all is good again.
Sorry, been really busy with stuff.
So Today Let me show you why I am an example of what NOT to do for others.
It all started about 3 days ago when my power steering pump was making noise. Seems that my Plastic resiovor I installed had its screen gunk up again.
Cool. I had a Plan!
I Ordered These Items from Amazon
$3.95 for the 3/8th WIX filter.
[IMG]
https://m.media-amazon.com/images/I/31cCisoRniL._AC_.jpg
[/IMG]
A Dorman Power steering Reservoir.
$15.58
[IMG]
https://m.media-amazon.com/images/I/81pELjZExvL._AC_SL1500_.jpg
[/IMG]
And I got to installing the stuff today. Put on the Filter on the High presure side, (The Small Line that is 3/8ths diameter.
Took out the old one, and did my best not to get the power steering fluid anywhere. But alas.. No dice. I still spilled some.
Installed the new stuff, and poured in some 2 cycle oil in there to LUBE the system as the oil is some REALLY good stuff. It also gets everywhere and cleans out whatever you got in the system. All of it was caught in the filter and after I ran it for about 2 days prior.
After I let it run for a bit, I took off the WIX filter, and just installed the power steering reservoir on its own and this is where my problems came.
I DID THE ONE STUPID THING YOU SHOULD NEVER DO.
I LET WATER GET INTO THE PLUG HOLES IN THE CYLINDER HEAD...
OOOOFFFF!!!
And there went my day.
So, TOOK the WHOLE DAMN Top of the engine apart, and got to work.
I still forgot to install some things like my NEW o2 sensor, and and also the bolt for the alternator, but I will get to it tomorrow or this weekend.
MAYBE...
I also sprayed down all the bolts in the back because I'm getting ready to take out the O2 sensor so I put some WD-40 on it and I'm basically right now basically burning off all the oil and all the other stuff from the job I did today.
Its 2:37 AM.
MOST of the stuff is burned off.
I also put in a new STOCK 212 thermostat. Also installed my Low speed Fan relay that seems to work. Not sure. But so far everything is good.
It was 38' Slight fog. Bit the CAR is running NICE and TOASTY!
I For the thermostat? I used Teflon tape on the bolt inboard to the engine, and used a bolt with a nut on the outboard of the engine as the threads are striped. I have an extra housing, but meh, this works.
SO far it looks like there are ZERO LEAKS! WHOO HOO!
I topped it up with antifreeze, and the temps are staying perfect. THe NEEDLE is RIGHT where it needs to be. Wonderful!
But it took me about 8 hours to get it all done. I got my compressor out and blew out ALL the water out of cylinder 1. THERE WAS LOTS OF WATER IN THERE> It was enough that it Miss-fired so bad, it came out of the Air filter.
Hence, why I did all this work today. All because, I WASHED DOWN THE ENGINE AND GOT WATER IN THE PLUG VALLEY. DRats!
I also noticed that some of my plugs were not in great condition. So I replaced one of them. Later on, I need to order plug wires and new OEM plugs and get them all replaced with new matching set.
The engine is running smooth as butter.
I also fixed a Kink in my replacement fuel line. And took care of some hoses and did some Heat shielding of the wires.
I have had a LOT of Taco Bell as of late, and the Metal foil wrapping of the grilled cheese burrito and some zip ties did a really good job doing some heat insulation on the wires on the back of the engine where I believe the pressure sensor is.
I also lubed up some joints under the hood and some other things.
I also want to tell you that I am going to be making some NEW design of the wobble bits. THE DAMN THING BIT ME!
My RING finger got caught in the cam in the wobble bit. And it BLED for a LONG time. Thankfully, it does not hurt that bad as it was on the bottom of my finger so I can still type and do stuff thankfully.
I did have to put on a glove and then some Tissue to catch the blood. Its a Bit swollen now, but after about 4 hours it stopped.
I topped of the coolant, I topped of the Power steering fluid with the Big gallon I had bought and everything seems to be fine so far.
I have been idling for about 45 min, and so far I don't see any leaks, or any drips from anything and that is a welcome to relief.
I also did a Clean up of the car mats with the air compressor, and got a lot of dust out of the cabin.
I did a BUNCH of other things as well over the month, but that's for another day.
Car is washed at the car wash earlier today as it's been pretty dry and I'm really happy my car's clean everything's working and no more power steering noise so far.
I would have got done sooner but I got home today and realized I really wanted to put up some of these meteor shower lights and I finally got that done as well.
Really glad I got the meteor Lights up today. GOt my ladder out and relized I need to order another 10 sets to make the look perfect. All of them are USB powered.
Got them for about $10 bucks. BOY are the BRIGHT!
I put about 3 of them on a line as they can be hooked up in series. (parallel actually) without to much loss in brightness, but I still measured about 3.7v ~3.2volts instead of 5v with just 3 of them. So if you want to get MAX brightness, use one USB power plug per string. Still. MASSIVELY BRIGHT!
Whew.. LONG day. And lots more to do. Shocks, bushings etc.
Now for some Coffee and something cold and then bed time.
AND.. Here comes the firetrucks. Wonder what happned?
Never a dull moment in Portland Oregon.
NOTE TO SELF. STOP WASHING MY ENGINE BAY! LOL!
Short Video: