26 May 2017, 11:25 am
Obsessed Cruiser

Join Date: Jan 2012

Location: Beckley, W.V.

Posts: 13,904
Re: 2005 PT Cruiser Could it be a Key Problem after steering column replacement
---
Quote:
Originally Posted by
JudyM
I Love my PT Cruiser, its my work car. It's a stick and manual locks. no keyless entry. Last year I had to have the steering column replaced. I haven't driven it hardly at all, only short trips, until about two/three months ago. Then . . . while driving it started to stall. It seemed there was a problem with it getting gas and it wasn't catching gear shifts properly. in the console the following indicator lights came on, check engine, center red light for alarm system (#5), brake, while at the same time the speedometer and the rpm go dead. If I leave the car sit for a while, I can then drive it normally and it runs great, but only for a while then it does the same. I can start it, and accellorate but then the dash indicators act as described and if I take my foot off the gas it dies. I each restart gets more and more difficult. And it misses and jumps like crazy.

I took it back to the mechanic who replaced the steering column and it wasn't showing any codes or having the bad symptoms. Finally I was driving by them and it was acting up and I swung in there and he put the computer on it and there were like 40 codes.

He said obviously, there was an electrical problem and we talked about whether it could be a key programming issue because when they replaced the steering column they did not reprogram the spare key, which I never used until a couple of months ago when I started driving it more frequently and let my nephew drive it. Myself and my mechanics are at a loss. I hate to get rid of the car. I want to drive it until the wheels fall off. I am really hoping someone here will have some insights or experience that can help lead me to a path of resolve! Thanks so much.

Judy
If you had all those codes and none when it's running well. I have to believe your having PCM OR POWER ISSUES. I would unplug the PCM with the battery terminal off. Then reconnect if it looks ok inside the plugs. And hope you get lucky.
__________________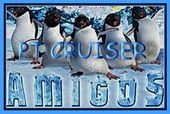 03 Dream
stock___________________________
04 Touring turbo lite
stock_________
02 Touring
stock_____________________
The "Three Amigos"
__________________________________________________ __________________________________________________ ___________
Performance, Body and Service, OEM
This Is my project page.
http://www.ptcruiserlinks.com/forum/...oject-1-a.html
This is a great read from one of our own! Badglas
badglas.blogspot.com